Careers
Working at Eos
Reshaping the industry with ambition, originality, and resourcefulness.
Entry-level professionals
Get in on the ground floor of the green tech revolution.
Eos is proud to provide growth opportunities to those looking to begin their clean energy career. From manufacturing positions in Turtle Creek, PA to engineering and design positions in Edison, NJ to a wide variety of administrative positions, we're looking for passionate workers to power the clean energy transition.
Entry-level professionals:
Sherell H.
Get in on the ground floor of the green tech revolution.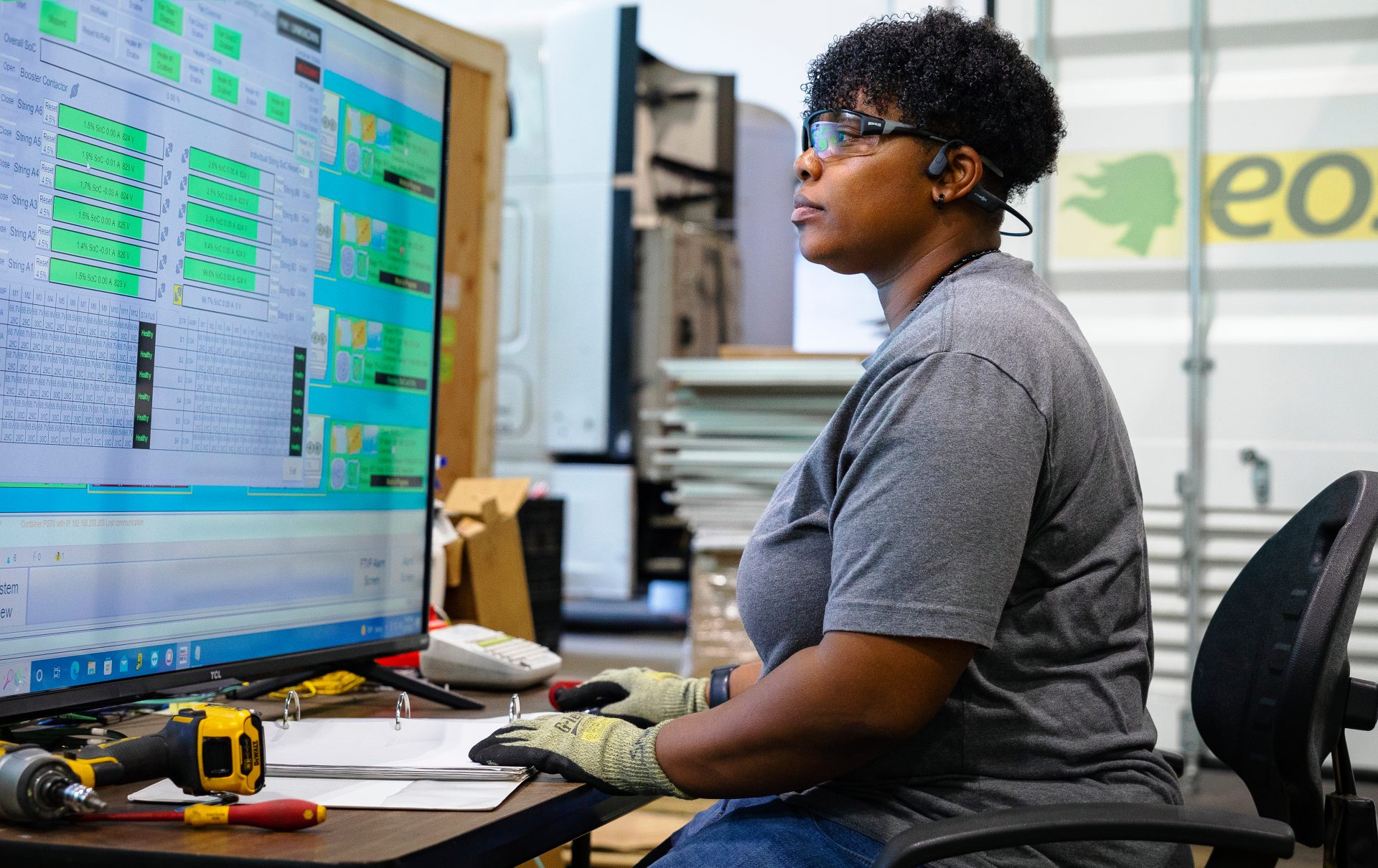 Sherell H.
Container Test Technician
Eos Ingenuity Park, Turtle Creek, PA
Before she joined Eos, Container Test Technician Sherell Harris just wanted to work somewhere closer to her daughter. She saw a job listing for a Quality Control Technician located in the right area, so she took a shot and applied. Upon seeing her background, Eos' hiring team felt she had what it takes to help build high-quality batteries as an Assembly Technician and offered her the job. Excited to start a new chapter, Sherell accepted the offer and officially kickstarted her career at Eos.
She may not have known much about the company when she began working in the Turtle Creek, PA manufacturing facility in 2020, but Sherell quickly developed a great rapport with her Eos colleagues and managers. She loves to learn new skills, and her teammates helped her progress quickly. Within months she was promoted to Lead Assembly Tech, and not long after she was elevated to the Container Test division where she ensures that every Eos storage system that leaves the building is built to spec and will perform exactly as designed.
"Every day is different and there's always something new to learn," Sherell said. "I love troubleshooting issues, and our team is great about supporting each other and listening to everyone's input."
In addition to feeling like she's part of a great team, Sherell appreciates the consistent hours for her shifts on the Eos manufacturing floor. She can count on working the same number of hours on the same days each week, which allows her to make plans without worrying that her schedule will change from week to week. Not only does this allow her to spend time with her daughter, but it's also given her the ability to purchase a car and begin thinking about saving for a house.
Joining Eos was more than just a new job for Sherell; it was the start of a clean energy career. Now, the company benefits every day she's in the building from her positive attitude and attentive approach to her work. She plays a critical role in keeping production on track while ensuring that the products will deliver the performance Eos' customers expect. Together, Eos and Sherell are doing something positively ingenious.
Manufacturing
Help us build for better, brighter tomorrows.
Eos' production capacity is constantly expanding to meet the world's growing energy storage demand. As we rapidly increase the scale of our manufacturing operations, we're looking for skilled workers interested in receiving the additional training to build clean energy storage systems that will power homes and businesses in their own communities and around the globe.
Help us build for better, brighter tomorrows.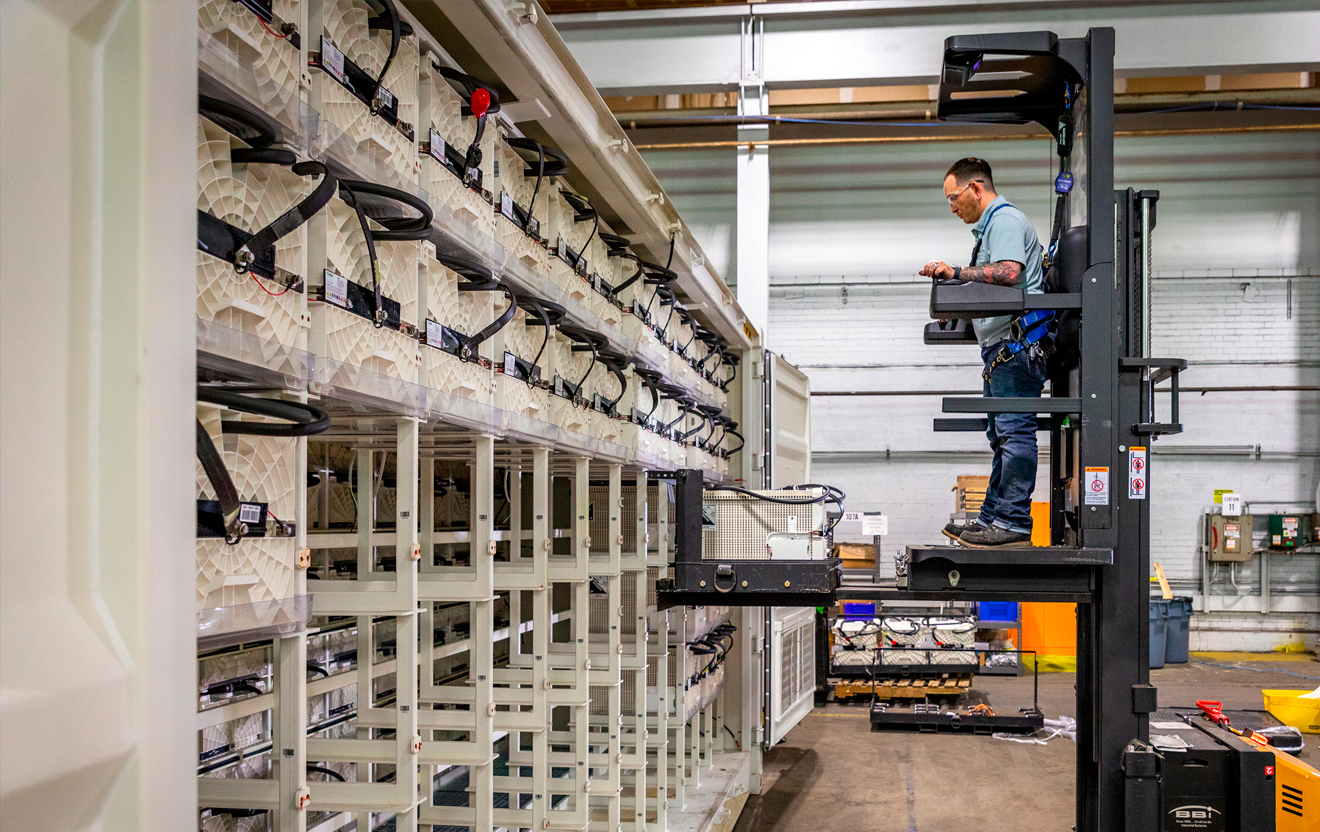 Ray S.
Production Supervisor
Eos Ingenuity Park, Turtle Creek, PA
1st Shift Production Supervisor Ray Shandorf found what he needed to power up his career when he joined Eos in 2020. With well over a decade of manufacturing experience, Ray was looking for a landing spot where he could work with a great team to make something that would benefit the planet. The startup culture and clean energy technology Eos produces were a perfect fit.
Ray has been performing manufacturing work in the Pittsburgh area for almost 18 years. He's helped companies scale up from humble beginnings. He's worked 12-hour shifts. He's worked weekends. He's paid his dues. Now, he's a leader on the shop floor at Eos where he ensures that production is safe, efficient, and compliant with the high standards necessary to produce top-quality energy storage systems that are changing the way the world stores power. And that's exactly what drew Ray to Eos. He understands how critical these battery storage systems are for powering the future, and he's glad to be a part of the team working to build and ship them now.
Starting out as an operator, Ray was promoted to lead operator in 2021 before being promoted again to Shift Supervisor in early 2022. He appreciates that Eos offers him the chance to advance his career while also providing a consistent schedule that leaves time for hiking and camping trips with his wife and free time at night to head to the lanes for a few games of bowling. His 2018 Pennsylvania State Bowling Championship teammates are also glad Ray has more time to practice.
Since finding Eos, Ray has been able to buy his first home and managed to feel even more settled and content in an area where he's lived most of his life. More importantly, he's found a job where he's more than just a pair of hands. He gets direct attention from leadership who are dedicated to making sure Ray has the resources and knowledge needed to get the most from the workers he supervises.
"The management team is very impressive, and it's awesome to see Joe [Eos CEO] on the shop floor so often," Ray said. "For me, that's a huge part of what sets Eos apart."
The skills, experience, and energy that Ray brings every day are critical for advancing Eos' mission to accelerate the shift to clean energy, and that mission is what fuels Ray's passion for his work. He was looking for work that would change the world. Here at Eos, he's a part of a team doing just that.
Research, Development, and Engineering
Charge the future with your forward-thinking ideas.
Eos is helping shape the clean energy future, and we need innovative minds to help evolve and refine the technology we'll use to get there. From advanced electrical engineering work to the development of battery management system software, we're looking for talented professionals to help advance our energy storage solutions.
Research, Development, and Engineering:
Monthe T.
Charge the future with your forward-thinking ideas.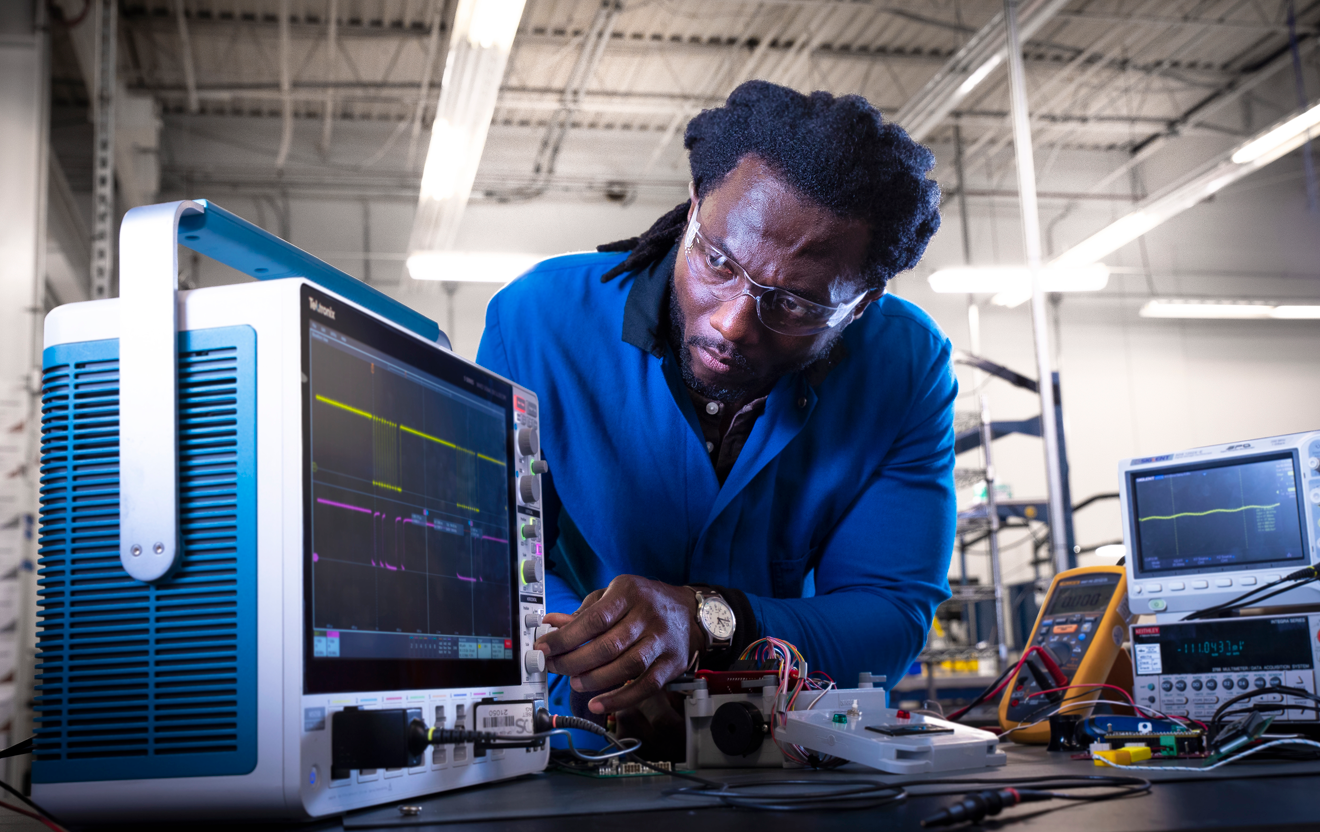 Monthe T.
System Design Test Engineer
Eos Ingenuity Lab, Edison, NJ
Since his younger days growing up in Cameroon, System Design Test Engineer Monthe Tchakounte has always had a passion to honor and protect mother nature. Even before immigrating to the United States to attend the New York Institute of Technology, Monthe worked on his own clean energy harvesting project as a way to learn and to help his community access power. He eventually made his way to the U.S. to pursue a master's degree and landed in the aerospace industry. After more than a decade, he wanted to energize his career by shifting his focus toward clean energy. That's when he found Eos and joined the team in July of 2021.
Monthe has served as a lead electrical engineer or test engineer for over 8 years. He's always had the drive to do something important, and while his mind is attuned to working with electronics, his heart is geared toward preserving nature. When the opportunity to join Eos came his way, he didn't hesitate for a moment because working on clean energy solutions had been his dream since leaving his home in Africa. Now, he gets to spend each day dedicating his technical knowledge and engineering skills to accelerating the shift to clean energy.
Since joining Eos' engineering team, Monthe has gotten to be a part of the important research & development work that has gone into evolving and refining the organization's breakthrough static zinc battery technology. Not only does this align with his passion to benefit nature by helping reduce reliance on fossil fuels, but it also means he gets to work with a fun-loving group of engineers who share that enthusiasm for clean tech. They share many laughs and keep things positive while working to change the world's approach to energy storage.
"Harvesting energy is easy. Storing and distributing it safely is hard, but it's important," Monthe said. "We're on the right track, and I believe our technology will benefit mankind."
Benefiting mankind is something Monthe knows a lot about. When he's not hard at work in the Eos Ingenuity Lab in Edison, NJ, he's likely out on the streets of New Jersey doing community cleanup with his volunteer non-profit, The Movement for the Renaissance of the Traditions of Afrika. Monthe founded this non-profit organization three years ago with the goal of helping keep public spaces clean and also to serve as a mentorship program for children in the community. Having taught himself about batteries and electrochemical physics as a young man in Cameroon, Monthe now dedicates his time to helping local kids believe in themselves in the scientific arena by urging them to strive for greatness.
Monthe carries this passion for benefiting the world into every project he works on at Eos. In this way, he helps shape the organization's culture by keeping us focused on the importance of the clean energy transition. Together, Monthe and Eos are on a mission to accelerate the shift and change the global energy landscape.
Veterans
Bring your sense of service to the clean energy challenge.
Eos appreciates the leadership, experience, and strong values that veterans can offer to our organization. From hands-on skills on the manufacturing floor to critical thinking and problem–solving behind the scenes, we're honored to have former armed service members help us transform how the world stores power.
Bring your sense of service to the clean energy challenge.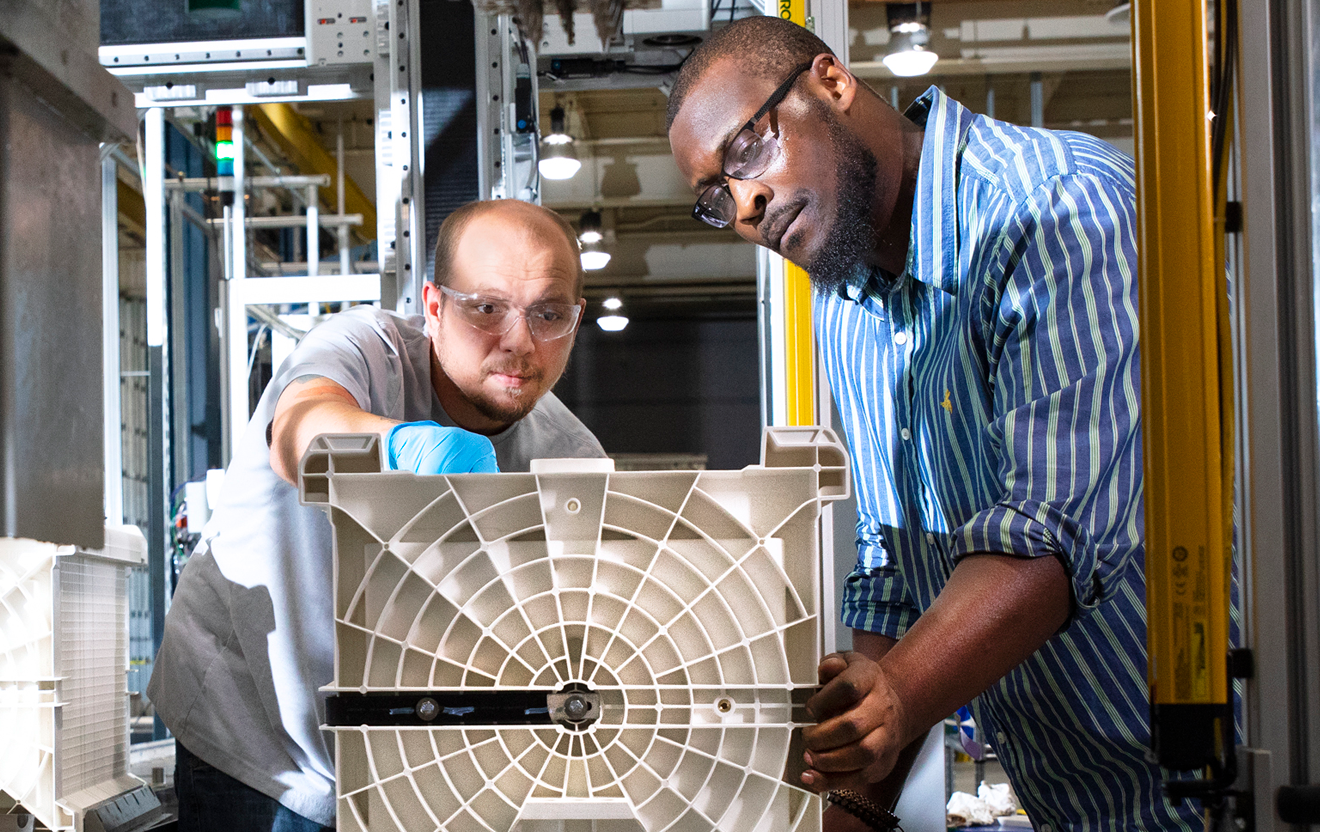 Austin S.
Production Area Manager
Eos Ingenuity Park, Turtle Creek, PA
After serving his country, Navy veteran Austin Suber was trying to figure out what to dedicate himself to next. He was enrolled in the Border Patrol Academy when he got the call from a former colleague about a job opportunity back near his hometown in Pittsburgh, Pennsylvania. For Austin, returning home to supervise the production of advanced battery storage systems sounded like the perfect way to recharge his career.
Austin started at Eos in January of 2021 as a Shift Supervisor with around 20 assembly workers under his watch. He was a quick study with great instincts and leadership potential. He watched his own bosses attentively, and with a little boost from the leadership training provided by Eos, Austin rose rapidly through the ranks to his current role as Production Area Manager. Now, he coaches newer supervisors and team leads, he improves processes and procedures, and he joins his reports on the line to help build batteries as well as team chemistry to keep production moving quickly and safely.
"With a company that's growing so fast, everyone is energized because every day is different and there are always new folks joining the team," said Austin. "Eos is different than your normal run-of-the-mill company; everyone who comes here wants to see us succeed because that means more clean energy for the planet."
The high-energy environment is one of Austin's favorite parts of working at Eos. It keeps him pumped up to put in his best every day, which has helped him achieve a career he didn't know was within his reach. He credits the opportunity he's had to grow professionally at Eos for improving the life he and his family now have. They're able to live comfortably, which gives Austin peace of mind along with enough downtime to stay active and even enjoy an occasional "flight" in Microsoft Flight Simulator, his favorite way to unwind.
The passion and leadership that Austin provides to the manufacturing team help Eos produce and ship more American-made energy storage systems every month. He is a positive force on the shop floor every day, and his enthusiasm for doing great work rubs off on everyone he interacts with. With Eos, Austin found a career he's proud of and his work is critical to the company's mission to accelerate the shift to clean energy.
Benefits at Eos
A place you'll feel valued—and part of something bigger.
We want to provide our team members with everything they need to live comfortably, while also encouraging and enabling the best possible performance each day. So Eos not only offers a comprehensive and competitive benefits package that covers all the essentials, we also offer equity to all employees.
Those who join us in accelerating the shift to clean energy can expect to receive the following benefits:
Competitive Compensation Package
Equity (typically in the form of Restricted Stock Units with time-based vesting)
401(k) with company contribution
Company paid holidays
Medical, Dental and Vision Insurance
Short-Term and Long-Term Disability
Basic Term Life Insurance
Paid Time Off
Flexible Spending Accounts
Employee Wellness Programs
Employee Rewards Programs
Diversity & Inclusion
It will take all of us, working together, to realize our mission.
At Eos, diversity, equity, and inclusion are more than just words. They're a strategy. By inviting people from a variety of social and ethnic backgrounds with unique identities and experiences to join us, we can find positively ingenious solutions to the energy challenges before us that will work for everyone, everywhere.
Join us.
If you're ready to put your ingenuity to work, Eos is a place you can make a positive impact on the world.