News
Greetings from Eos Ingenuity Park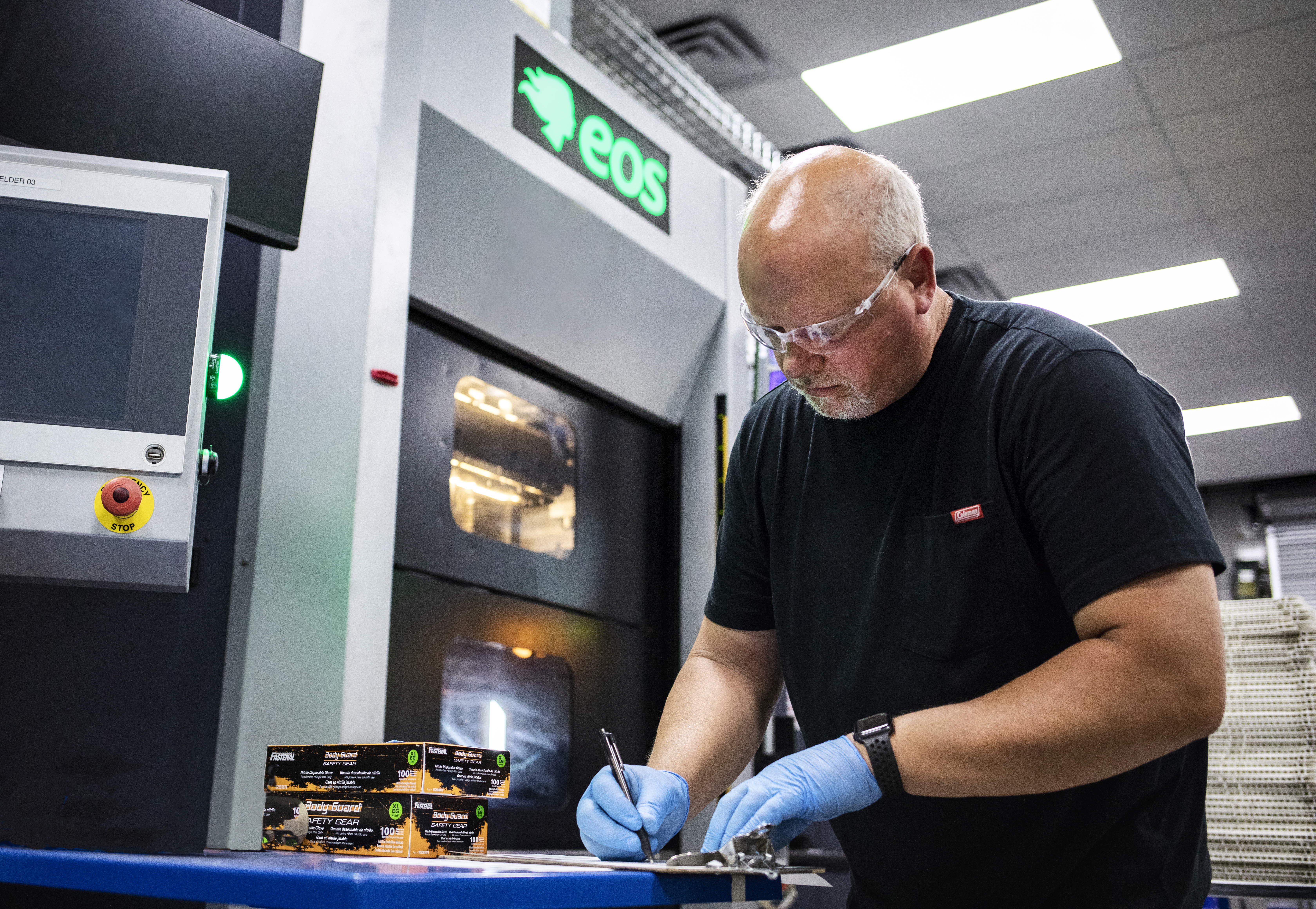 Recently, we announced the expansion of our Eos Ingenuity Park manufacturing facility in Turtle Creek, PA, and last week we produced the first batteries in our expanded facility. This marks the first successful step in our $25 million capital investment to more than triple our production capacity by the end of 2022. Last week we also announced our largest customer order in Eos's history, which brings our orders backlog to more than $200 million from less than $5 million two years ago. This is exciting.
I love sharing the story of the team behind these numbers. Our company vision quickly becomes a reality when you see the team in action. Today I'd like to virtually introduce some of the great people changing how the world will power its future.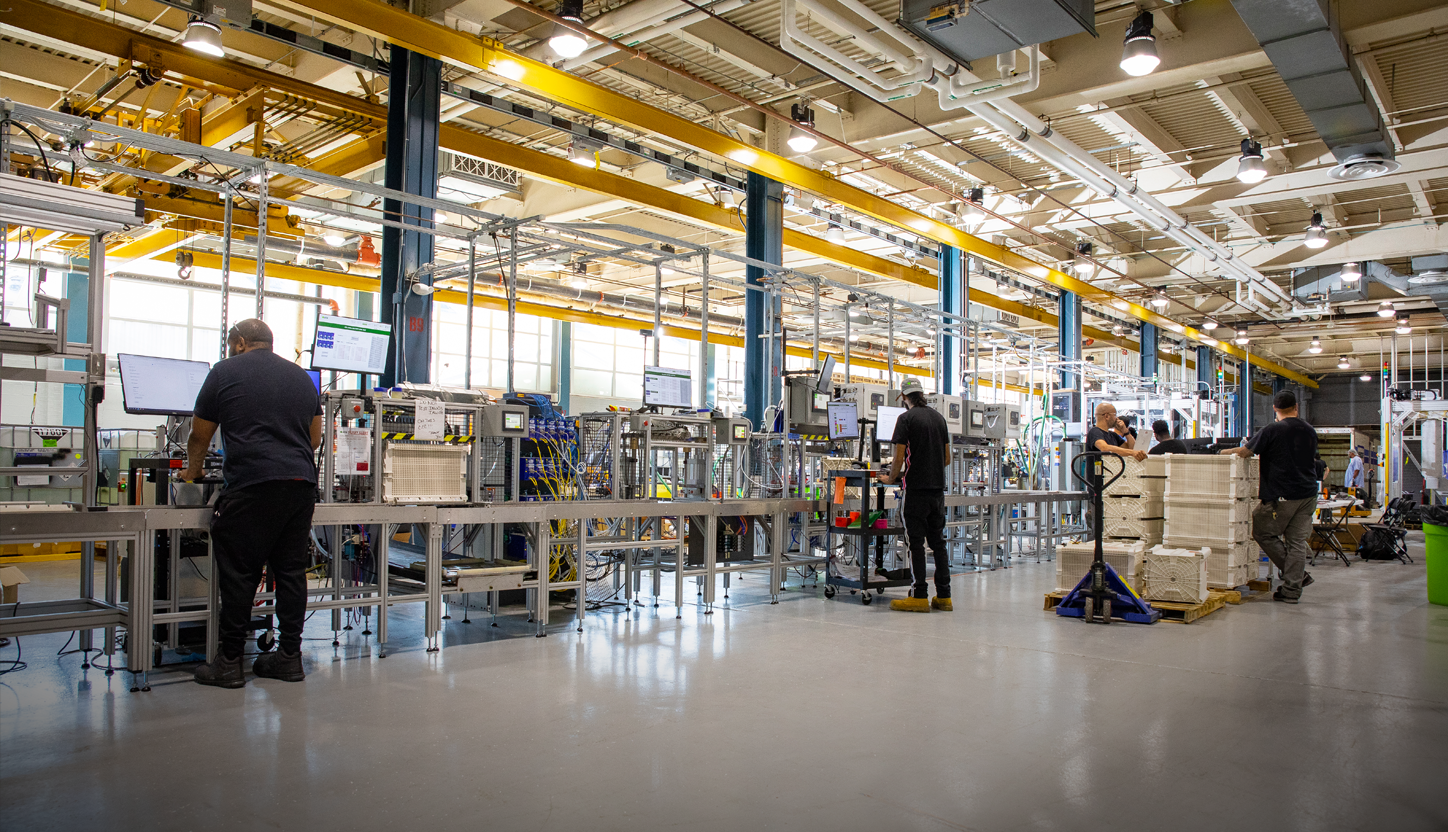 When we moved into our current facility, it was being used to store excess and obsolete materials. In August 2019 we hired Turtle Creek employee number two, Brian Vason, who led the effort of cleaning out the building. After working through a variety of assignments over the past two years, Brian was recently named leader of the new battery manufacturing facility. I was on-site in Turtle Creek to see the first battery being built and Brian told me, "While it's amazing to think how far we've come, it's more exciting to think about what we will do in the future."
While nothing is ever easy, the current global supply chain only made our challenge more difficult. Yet over the past six months, our team has increased factory output by more than 50 percent, with a 20 point first pass yield improvement. There was no "one big thing" that got us to this point and what I've learned is that "many little things" are required when you have a proverbial "blank sheet of paper."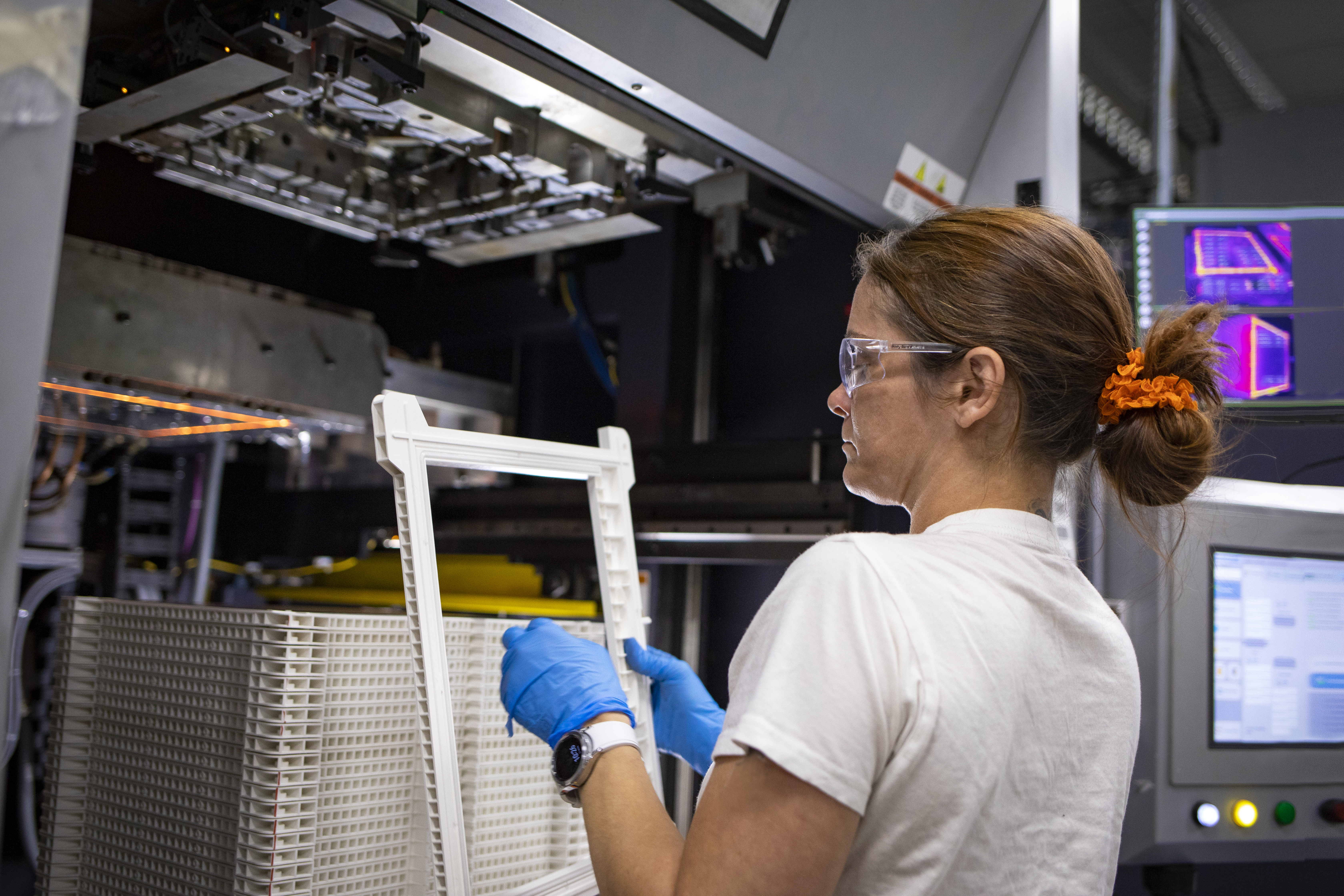 We started with the basics of good planning to establish our line rates, then used lean principles to increase capacity and Six Sigma methodologies to improve quality. We are a "Made in the USA" product and we've been able to grow in this environment because the majority of our supply base is within a day's drive of our factory. More than suppliers, these are partners who have supported us as we evolved from a research and development company into an industrial operating company. There is a big team behind this effort, but three key individuals are leading our path forward: Aaron Payne (Planning), Partha Dey (Supplier Development), and Cole Patterson (Strategic Sourcing) are working to bring our U.S. supply base to 90 percent.
That transition was difficult. Rick Buchman, one our military veterans in Turtle Creek, started at Eos when we were still teaching ourselves how to build a battery. Rick's motto is "follow the data," and he uses that to become a pied piper, often telling me, "We need to engage the entire workforce because our best improvements come from ideas on the factory floor."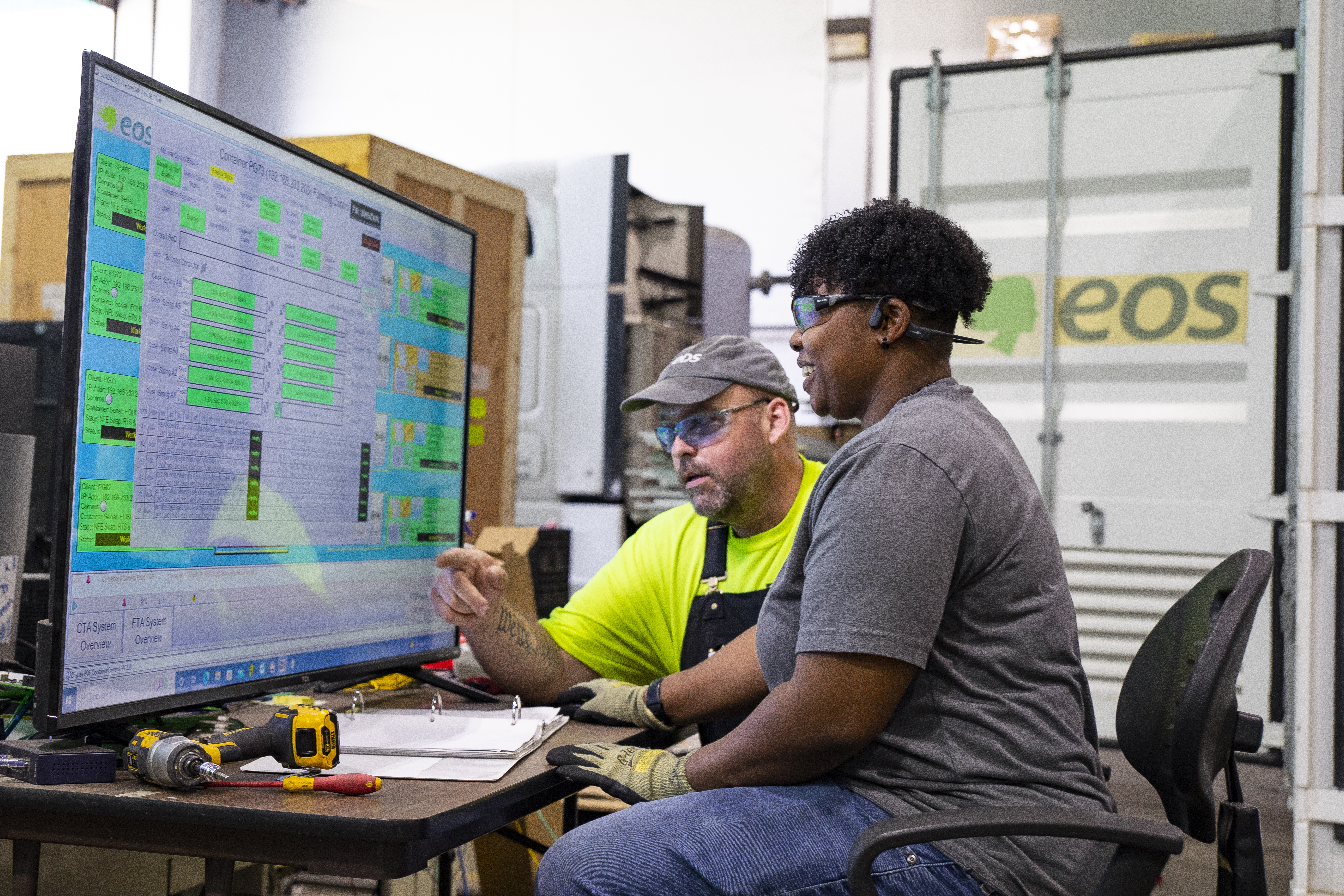 Our investment is starting to deliver results. Two weeks ago during our Employee Town Hall, we recognized our battery test-fill-final assembly team (Rob Sudak, Rick Martchek, Cinnamon Jenkins, Finn Burns, Ray Shandorf, Brian Vason, Shadied Acie, and Alexandra Vantryfle) for increasing line output by 83 percent without any additional investment. Steve Laich, who leads production, always tells me, "This is one of the most engaged workforces I have seen in my 40-year career." We now have multiple projects being executed on the shop floor: Reducing container assembly & test cycle time, improving battery first-pass yield, and one of our most exciting projects, training one operator to manage two infrared welding machines.
Infrared welding is one of our critical manufacturing processes and it has been a challenge for us to achieve consistent performance. Our lead process engineer Kevin Benson, along with Manufacturing Technician Matt Solada, have become domain experts in this space. In Kevin's words, "Progress has accelerated on both commissioning and operating our welders. Every day we are getting better. When we face challenges, we don't just go through them, we grow through them."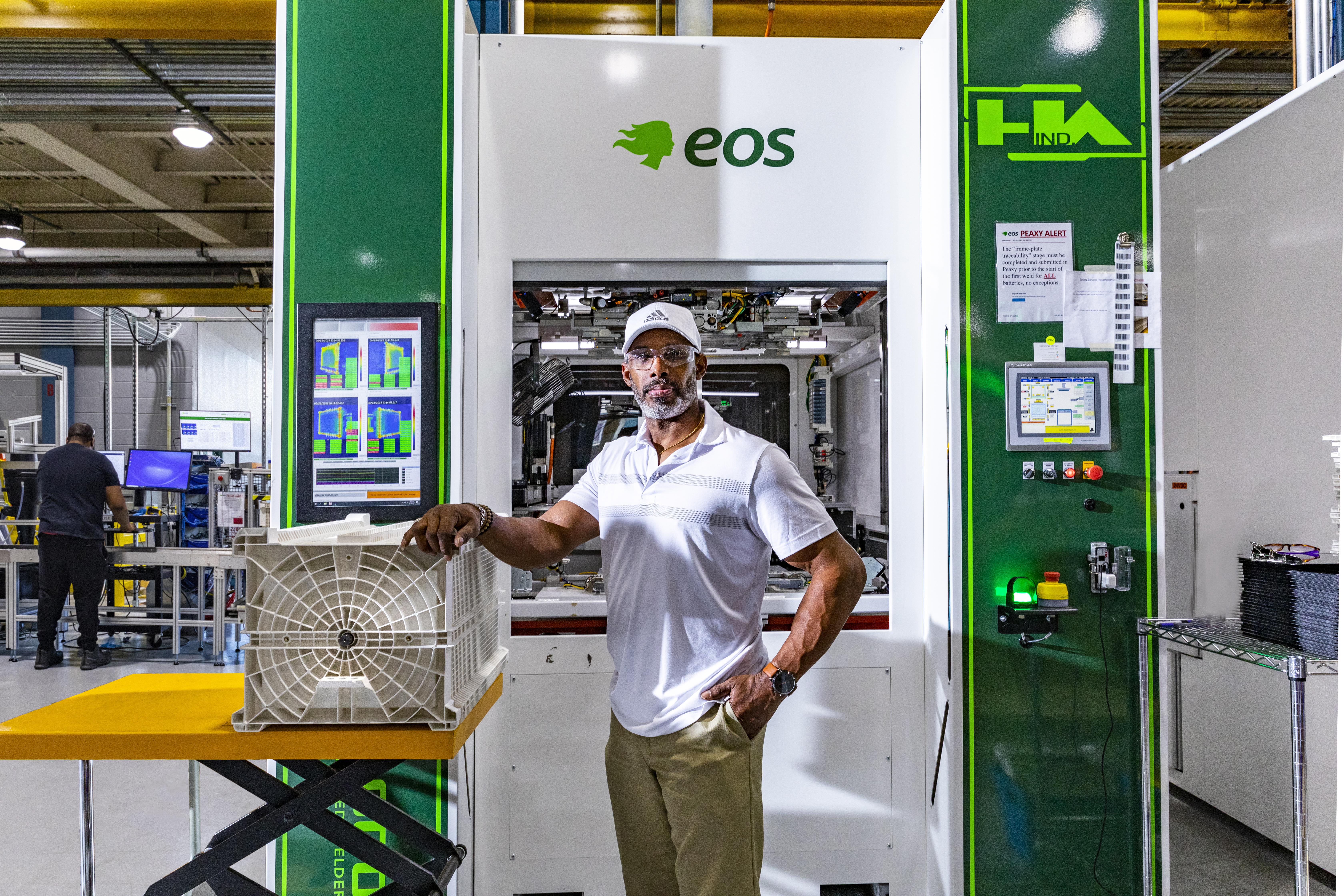 Our ninth and 10th welders were recently installed in the new building and it took the team less than two weeks to produce quality batteries from these assets. More importantly, Robert Giles, our most experienced operator, has been front and center for integrating these machines into production and now running both simultaneously. When I went over to see the first battery, Robert told me, "The new facility is going to be great, and these new machines are fast. Can't wait to get all the equipment in here and start full production."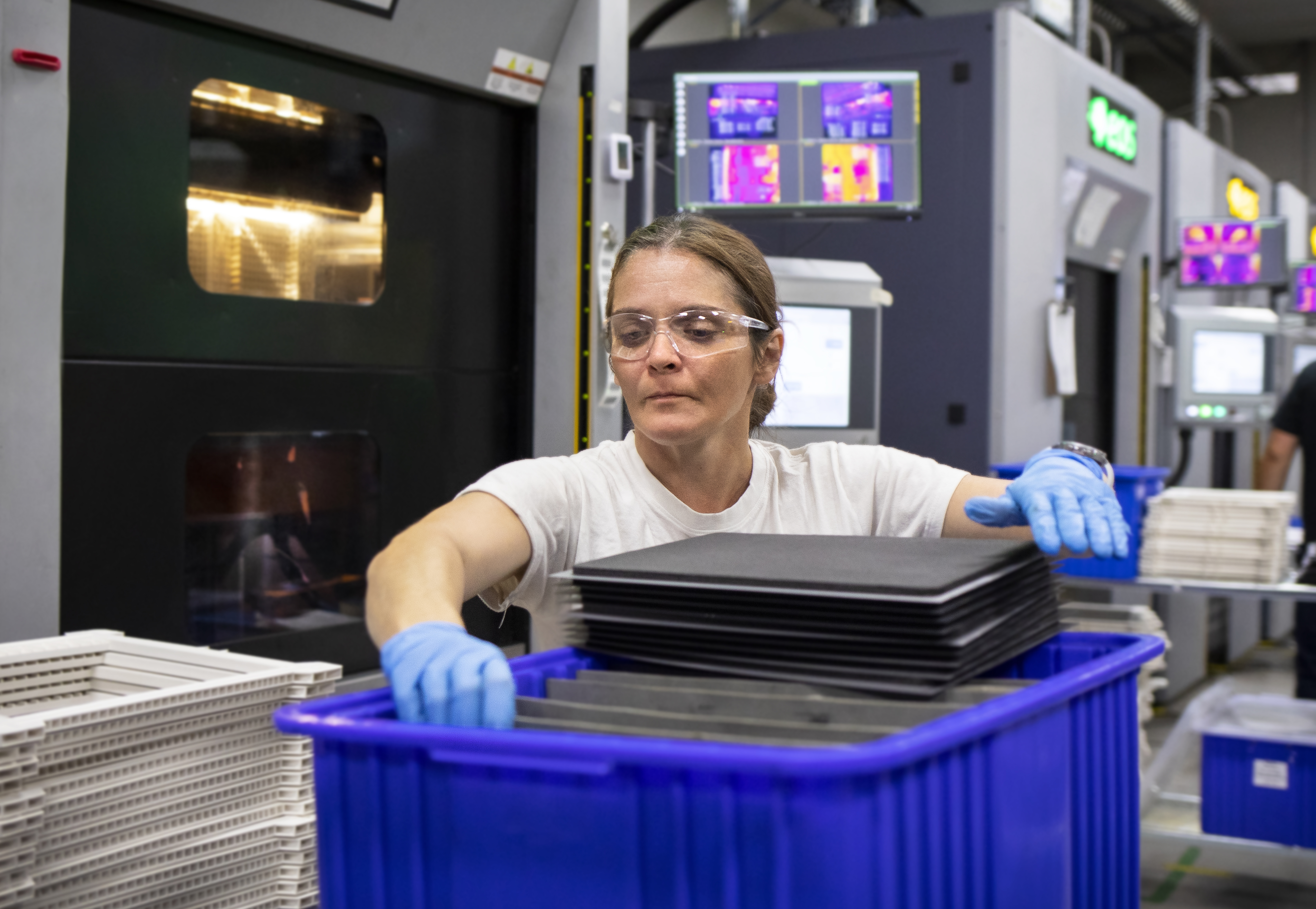 The new space has come to life and is focused on manufacturing batteries while our existing building integrates and tests containers prior to shipment. The expansion is being led by Steve Warthman and Corinne Blodgett. Corinne told me, "We are going live as we speak and every day there are new challenges to overcome, but we started planning for this last October. Going from an empty space to taped outlines on the floor to equipment in production is very satisfying to see as the vision becomes reality."
We recently named Ashish Diwanji as our Global Supply Chain Leader, and as I tell everyone, "At the rate we are growing you are no longer new after your first day." At the end of his second week, Ashish told me, "This is a once-in-a-career opportunity. We have a business poised for growth, and we need to build both our capacity and also our capabilities."
I always leave our factory energized for the challenges that lie ahead and the opportunities that they create. I'm proud of this team; I'm proud of our technology; I'm proud to be in Turtle Creek.
Let's charge forward!
Joe