News
NJBIZ Conversations: Joe Mastrangelo - CEO Interview
NJBIZ
|
September 28, 2020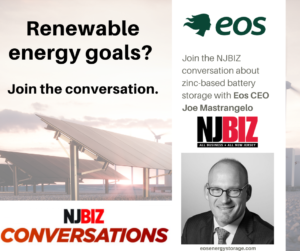 If the state is to meet Gov. Phil Murphy's renewable energy goals, the technology for holding and distributing power generated by the sun and wind will have to improve.
Edison-based Eos Energy Storage is on it, developing a zinc-based system that is cheaper and easier to install than the widely used lithium ion batteries. In this edition of NJBIZ Conversations, Editor Jeff Kanige speaks with Eos CEO Joe Mastrangelo about the technology, the market for renewable energy and the company's planned Nasdaq listing.
To read the full article, visit NJBIZ, click below or download the PDF here.